Pregnancy can bring a lot of changes to your skin. Thankfully, most of them disappear on their own after delivery – but we are often left with unwanted loose skin and stretch marks that usually take a bit more time and effort to get rid of. Our bodies are amazing in their own way and the changes they go through is partly due to genetics,  age,  skin's elasticity, how much weight gained and how quickly we've lost weight.
I had three pregnancies within five years and I definitely saw changes in my skin after each – but the most severe was after my second pregnancy. This was due to a combination of the above, and unlike my first pregnancy; I relaxed on taking preventative actions to reduce my chances of getting both loose skin and stretch marks.
What causes loose skin and stretch mark?
Loose skin is more likely to occur when you lose large amounts of weight in a short time (as you naturally do after giving birth)–this causes deterioration or reduction of collagen and elastin in the skin. The quicker you lose weight, the less amount of time you give your skin to recover, and sometimes it just needs a little help to catch up with your new body size. In addition, because skin is stretched to its limits during pregnancy, we're often prone to getting stretch marks.
Can we prevent loose skin and stretch marks?
It is true, prevention is better than a cure!
It's always best to start strengthening the core muscle and moisturizing your skin before you get pregnant–instead of trying to fix them afterward. If you are already pregnant, start as soon as possible and remember slow, steady weight loss(post pregnancy)can help prevent loose skin, because it gives the skin more time to regain elasticity and recover. But if you've already had your baby, then it's never too late and the tips below will help.
How do we treat loose skin and stretch marks?
1. Increase water intake
Drinking your 8 glasses of water is essential even in the best of times, but it is especially important when dealing with your skin because it boosts collagen production and helps it to bounce back faster. Hydration is key to having soft, clear and stretchy skin.
2. Eat healthy
Never underestimate the benefits of healthy eating. It's transformative–and not just of your waistline, but of every aspect of your body–including your skin. Eating foods that encourage the production of elastin and collagen such as those that are high in protein, antioxidants, healthy fats, zinc and vitamin c have been proven to be effective. Try going for whole, natural foods and drinks over those processed or packaged with chemicals or with added sugar and sodium.
3. Strength Training
Doing exercises with weights or resistance bands will build and tone muscles so they give shape to the skin. Low-impact strength training such as yoga or Pilates are great for new moms; they also help with toning and flexibility.
4. Keep Skin Hydrated
Using a good moisturizer is essential if your skin is loose or damaged. Lotions or creams with collagen, vitamin C or retinoids to help firm. Oil-based moisturizers with Shea or Cocoa butter, jojoba and coconut oil for anti-inflammatory and antioxidant–these are great for reducing the appearing of stretch marks when massaged in daily.
5. Exfoliation
Aside from clearing away dry and dead skin, a regular exfoliation habit promotes new skin growth, which is usually healthier and tighter than the old skin–leaving your skin more radiant, clear and youthful.
6. Lose weight slowly
Be kind and patient with yourself and your body. It takes an average of 40 weeks for your body to change into what it is now, so that's how much time you should give yourself to lose the weight (or longer). Do not let social media rush you! Rushing it will not be beneficial–in fact, it will do more harm than good.
7. Ultrasound or Laser treatments
For non-invasive treatments, there's an array of different ultrasound and laser techniques offered today and as technology improves so do these machines.
Lasers remove the top surface layers of the skin–this technique involves short, concentrated pulsating beams of light directed at the affected area. I personally prefer this for treating stretchmarks , but if you have a medium or dark skin tone it's important to know that you are at a higher risk for hyper pigmentation or burning with laser treatments–so always see a specialist who is familiar with your skin type.
Ultrasound heats targeted tissue under the surface of the skin, triggering the natural production of collagen to help smooth and firm the skin. This has been proven to be very effective for tightening loose skin.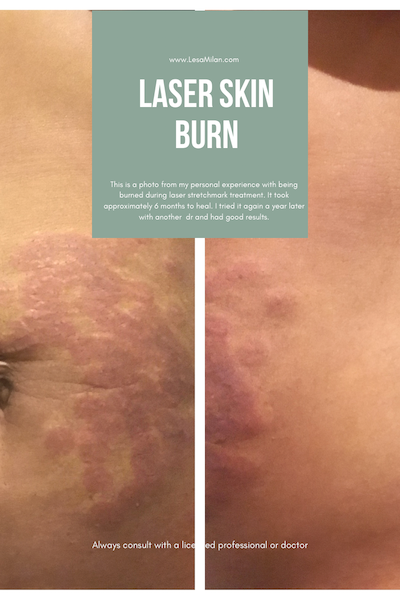 8. Surgery
Abdominoplasty, or tummy tuck, is a surgical procedure that removes excess skin, stretch marks and fat from the belly, flattening it and improving its contour. A muscle-tightening component such as renuvion(j-plasma) or vaser is often added to tummy tuck surgery for best results. These surgeries come with a scar (size of the scar depends on if you have full tummy tuck or a mini) and an artificial belly button.
It is important to see a board-certified plastic surgeon for expert advice to learn what's right for you. Loose skin and stretch marks are very common after childbirth and are more likely to happen if you've had more than one pregnancies– but it's a fixable problem, regardless if it's moderate or severe. Kudos to all the mammas who wear theirs as a badge of honor and kudus to the others of us who are finding solutions. More power to us all!