Change is inevitable when you are on a journey of growth. Whether you just graduated school, started a new job, got married, became a mom or are simply taking time to work on yourself – these all come with specific obligations that require dedication and compromise that often results in losing parts of ourselves.
We were three months into lockdown during the pandemic – my kids had been home from school and I was left in charge of ruining their education (that was not a typo), my infant son was not sleeping through the night and we couldn't leave home – so I had a break down (as we do when we run out of wine, right?). Like most mothers during this unprecedented time, I was overwhelmed but that wasn't my only battle.
Now that I was stuck at home with more time to think and reflect, that feeling of 'not knowing who I am anymore' that I've suppressed by keeping busy was making its way to surface. This was often triggered by a glimpse of an old photo or after weeks of doing the same things over and over. "Where's that fun, fearless girl who had big dreams, plans on making a difference in the world and a social life that even the Kardashian's couldn't keep up with? Did I lose her? – And if I did, do I want her back?"
I was unsure but determined to find the answers. I knew that I genuinely loved being a mom and I enjoyed spending time with my family, but I also knew something was missing (otherwise I wouldn't have had those feelings). So, I decided to do a 'Then and Now' comparison list to help determine what was worth holding on to and what changes need to be made in order to grow into the best version of myself.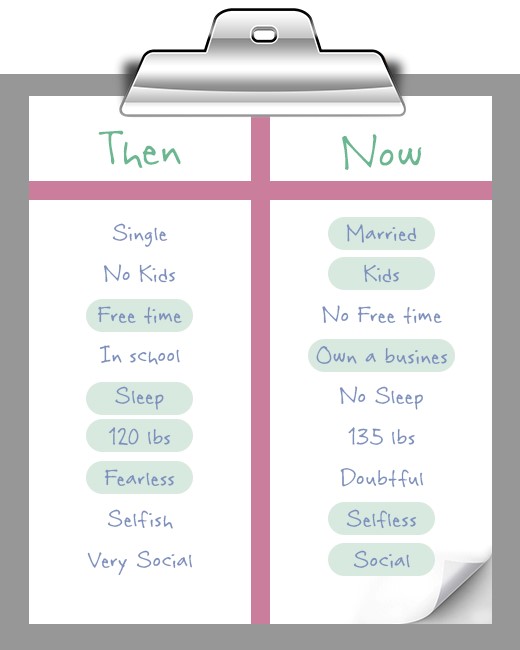 After completing this list, I realized that I didn't want to "find" my old identity, because in reality I'm not that person anymore – but I would like to incorporate some of things that I really enjoyed that I no longer make time for. The difference and contributions I've always wanted to give to the world, I already have with my three amazing little boys that I'm raising to be kind, compassionate and hard working men.
Starting a family is a life-changing experience – but truth is, it doesn't have to completely take you away from your passions, connections and everything that made you you. However, there will be moments in your life when growing into yourself will look like outgrowing others, old habits and things that don't align with your greater purpose.
Here are some tips that I found very helpful:
1. Make a comparison list like the one I've done above, but include your personal "then and now" and highlight all the things you would like to keep in your life.
2. Make all your highlights a priority because these are the things you love and they contribute to your happiness. When things are a priority, you find ways to make time for them.
3. Have your own life outside of your family or work. Find hobbies to do on your own or with your friends, create an exercise routine, plan a girls' night out or a 'bubbles and brunch' (nothing screams "I'm doing me" more than champagne in the afternoon).
4. Put your needs before the wants of others – this includes your kids. For example: Mommy NEEDS to go to the gym but the kids WANT to go for ice-cream (mommy's need is greater, so save the ice-cream trip for later).
5. Get a support system – it's therapeutic to have people you can share your thoughts and feelings with (especially when you're in a uncertain space), bounce ideas off or ask for help. Remember – a problem shared is a problem halved.
This all sounds great on paper, but putting it into effect (at your own pace) is when you will start to feel like yourself again. Continue to do things that make you happy but remember to try new things, embrace change and grow baby grow!